In conjunction with the theme concept of The 9th Asia Pacific Harmonica Festival – "Harmonise the World", FunStage is one of the important highlights of the festival. The concept of FunStage is to gather participants around the world, make friends, share their talents, jam with music, spreading their love ~
The

FunStage

Game have 3 sections which are
THE Q UP SHOW:
We encourage people to show their talent, no pre registration, no pre booking, just queue up and perform!
THE SHOW TIME:
We encourage CREATIVITY, except for harmonica, mix your performance with more than 2 elements!
THE SHOW OFF:
If any participants have any special skills to show off, 
– Just sit on the 'Challenge me Chair', and write down the super talent that you wish to challenge .
– Anyone can accept the challenge
– If challenge is accepted, the battle will start immediately, the loser will face punishment.  
配合第九届 亚太口琴节的主题 – '吹动世界和弦',疯舞台则是节庆活动里重要的一环。疯舞台的概念是希望来自各国的参与者能达到真正的交流、分享,以及透过口琴音乐聚集大家的心,大家交换文化,促进友谊,展现各自的才华,和向世界传播爱 ~
活力疯游戏分成三大项目
排排秀:
鼓励大家敢于展现才华,无需事前登记,直接排队,下一个舞台就是你的了
秀秀秀:
鼓励表演者的创意,除了口琴,再配合两个以上的表演元素!
斗斗秀:
若参与者有什么特别的技能,只需坐上'龙椅',写下要挑战的项目,任何人都可向您挑战
当有人要挑战时,挑战将 '立刻' 开始,而输的必须接受惩罚!
There is a Big Wishing Tree on the FunStage backdrop, leafless on the beginning. The mission of all the 9APHF participants is to fill it up to make a Maunsell tree.
They can either make a donation to the beneficiary unit (IRCA & Sight) and get a leaf, they can write their wishes on it and paste it to the tree. Or they can 'win' the leaf by performing at the FunStage Game, and collect it from the audience if they like the show. The leaf is also representing friendship between the audience and the performers. 
台上有个许愿树,开始时是枯萎无叶的,而整个口琴节的参与者的任务是要去填满这棵树,使之茂盛。
他们能选择捐款予受惠团体(IRCA & Sight) 获取一片叶子,然后写上自己的愿望贴上树上,或者是参与活力疯游戏表演,让喜欢其表演的观众送叶子给表演者。许愿叶子也代表着表演者与观众互动的友谊。
In the festival pass, there are several small missions for the participants to complete in the FunStage.
在festival pass里有几个小任务让参与者在疯舞台内去完成的。
PHOTOS 照片:
You can borrow many creative props from the 'FUN BOOTH'   在 "疯铺" 您可以任借各种创意道具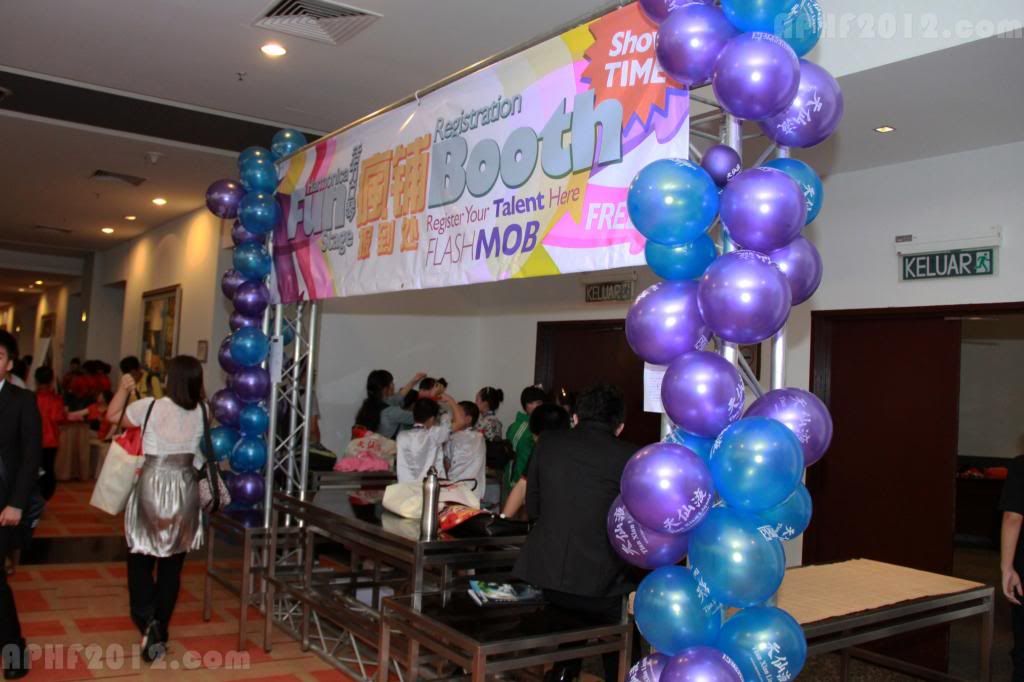 Some speech board for the photo  一些能用于照相的话语板
Mr. Lee Hea Bong with FunStage Photo Stand Board  李惠奉先生与照相板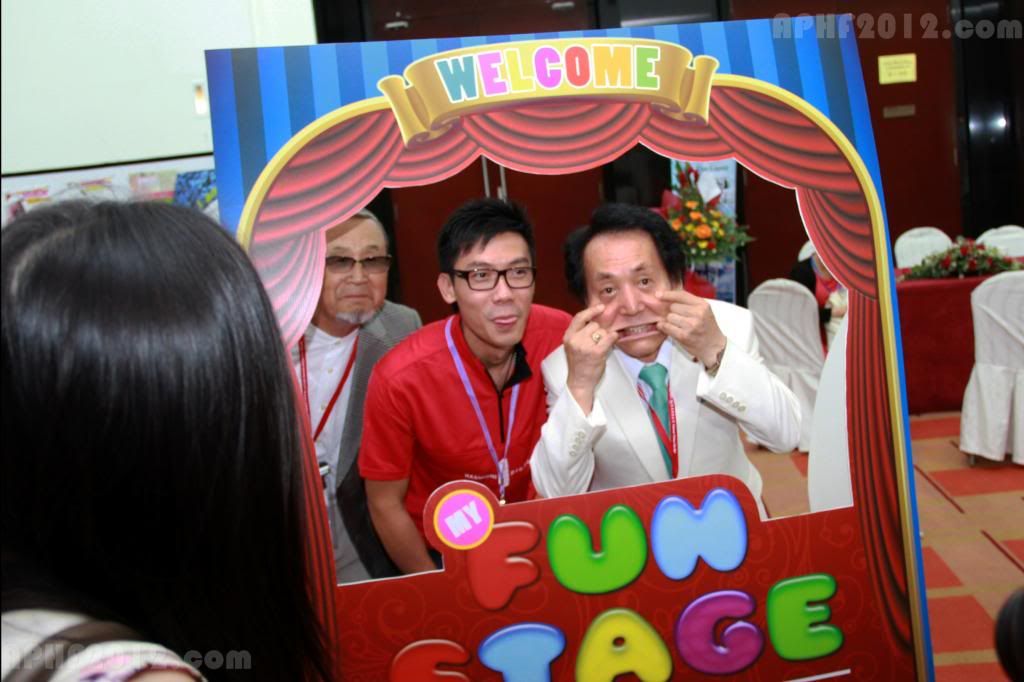 Waiting for someone to 'Show Off'  '斗斗秀' 等待着挑战者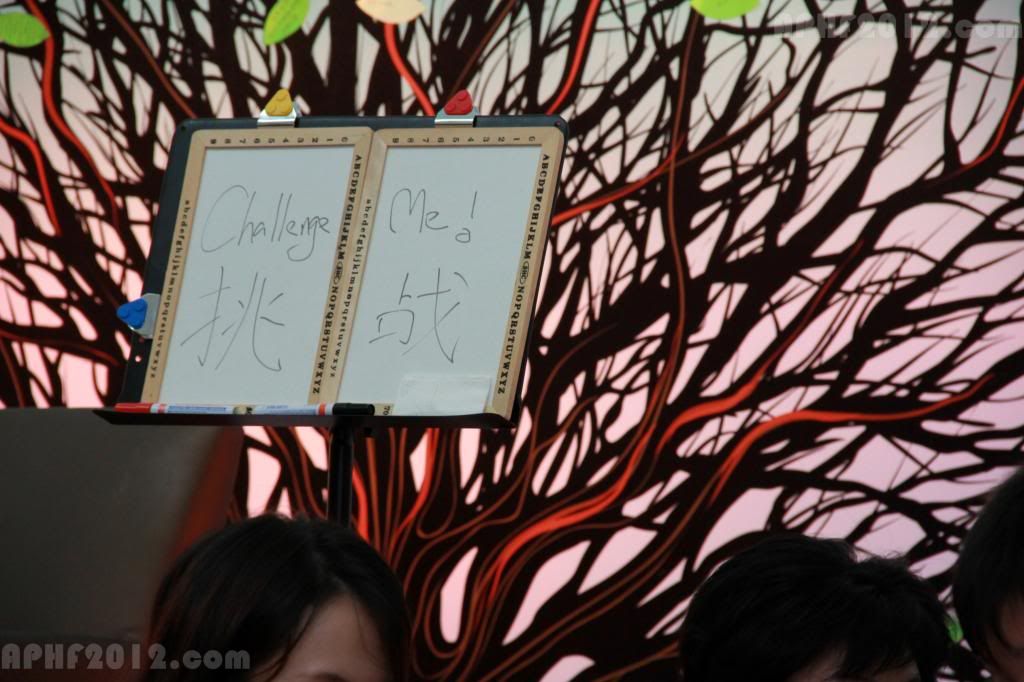 FunStage's Super Mcee! 疯舞台金牌司仪!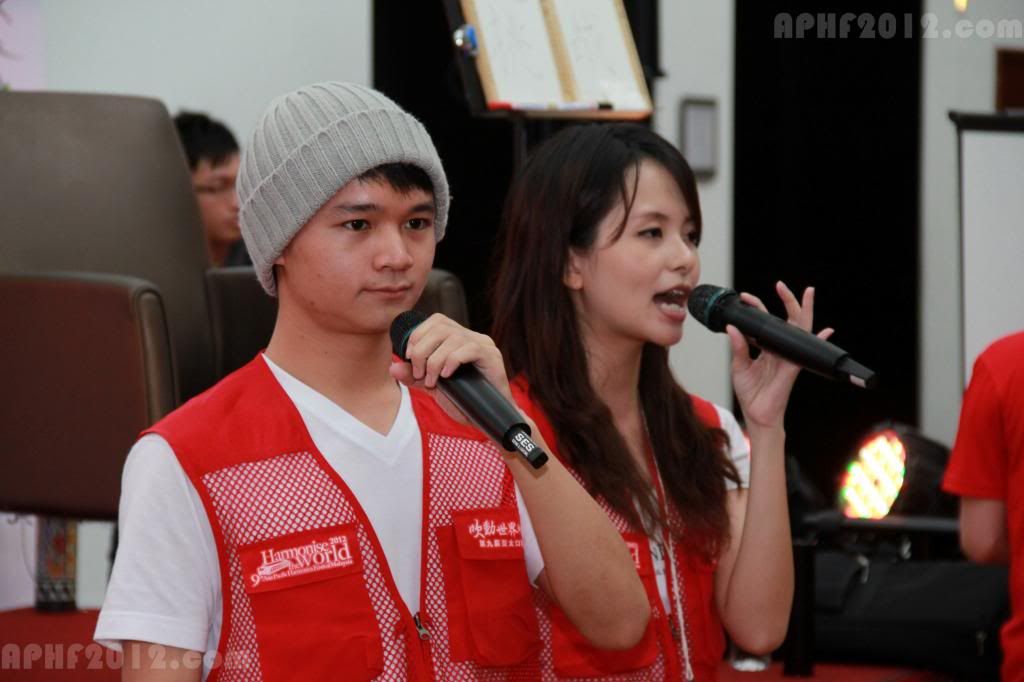 Our Fun Crew approves the chop to the participants 疯团员正认证盖印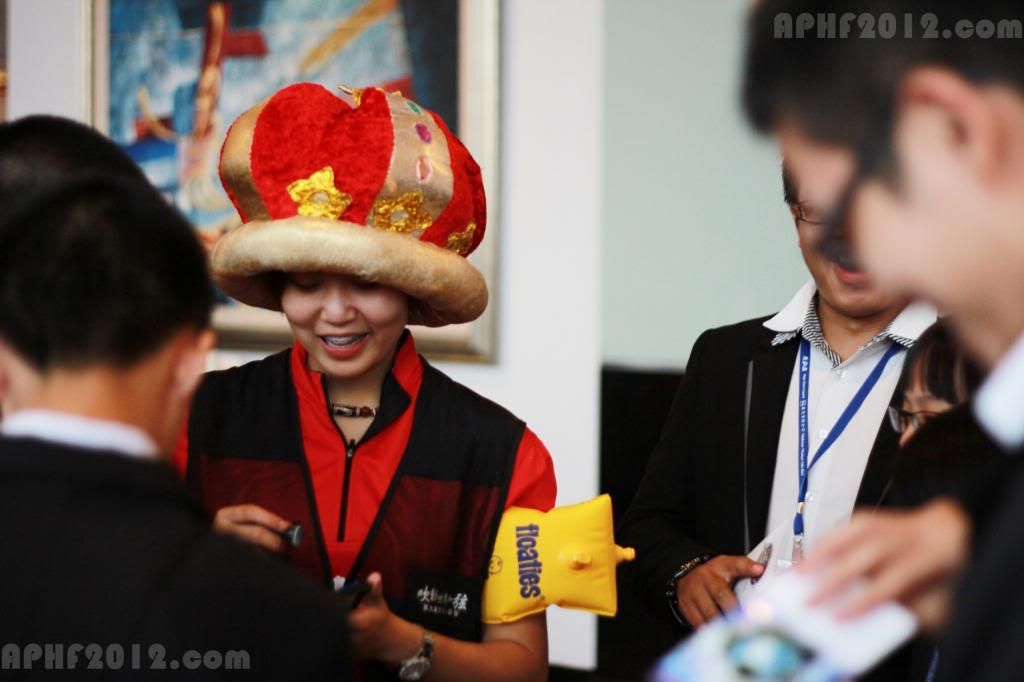 Signatures by participants from all over the world 来自各方好手的签名
Yuko Yanagawa performing under the 'Wishing Tree' 柳川优子在许愿树下演奏
The 'Q-up Show ' can also be a big team  有时'排排秀' 的人数可以是一大群的
Registering on the Fun Booth 疯铺的'疯狂地'报名情况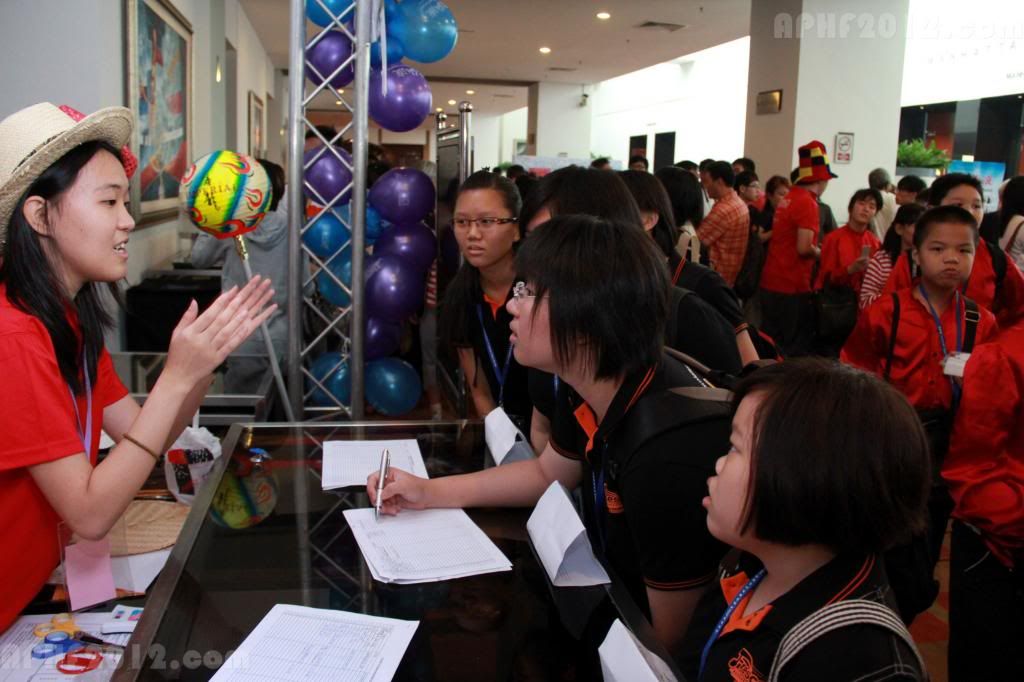 The FIRST 'SHOW TIME' is UP! 第一位'秀秀秀' 隆重上场了!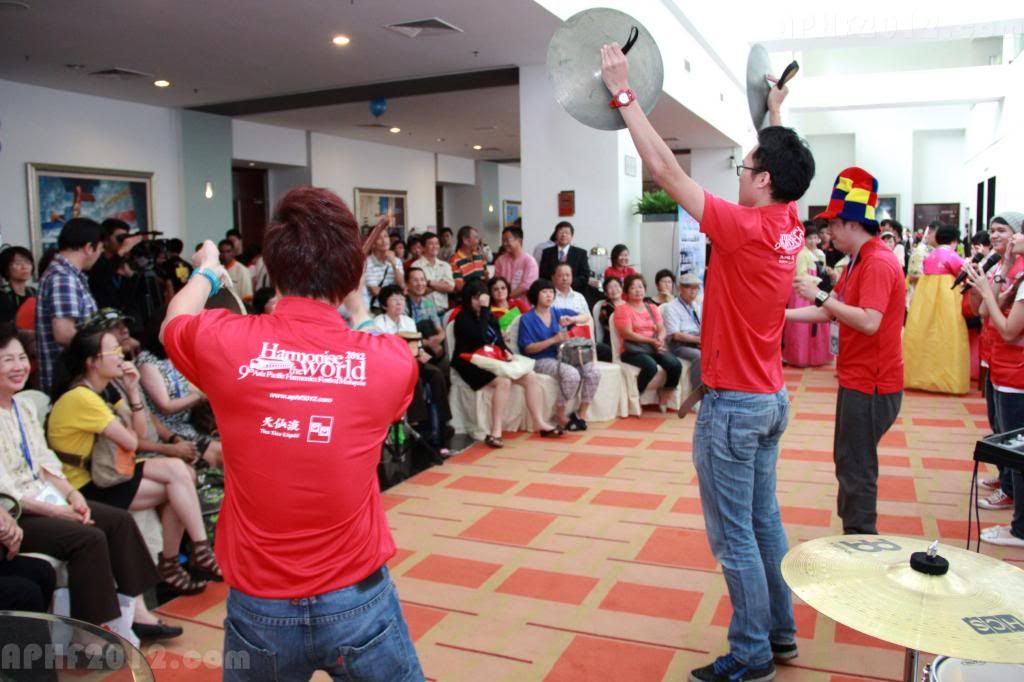 It's Chang Chu-Ting Belly Dance Show!  是张筑婷的肚皮舞!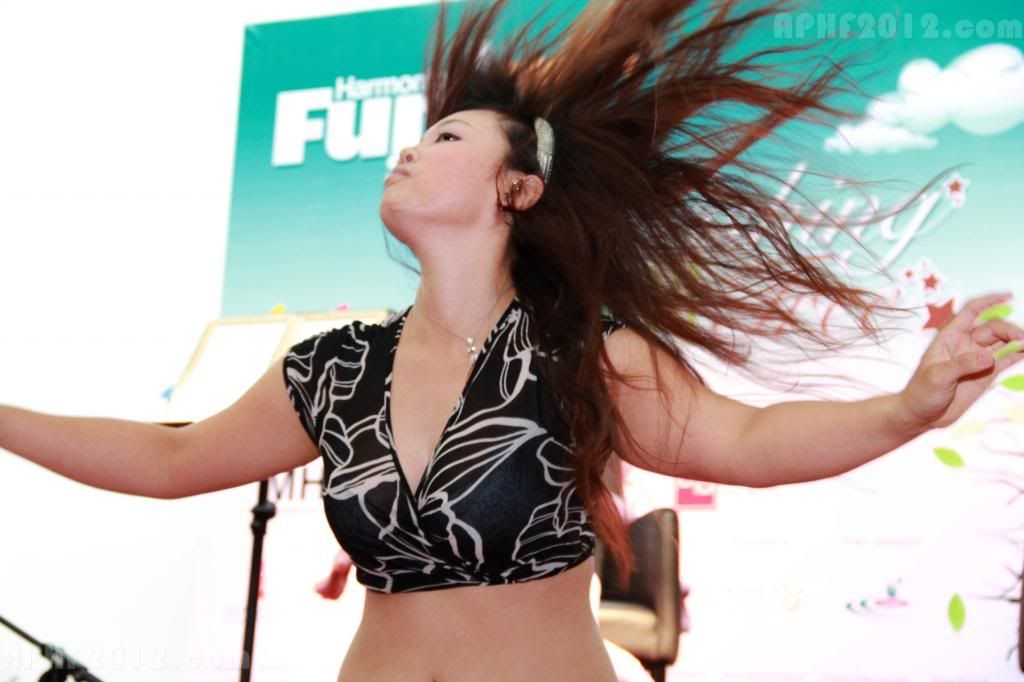 Sending their wishes on the Wishing Tree 许愿树上送祝福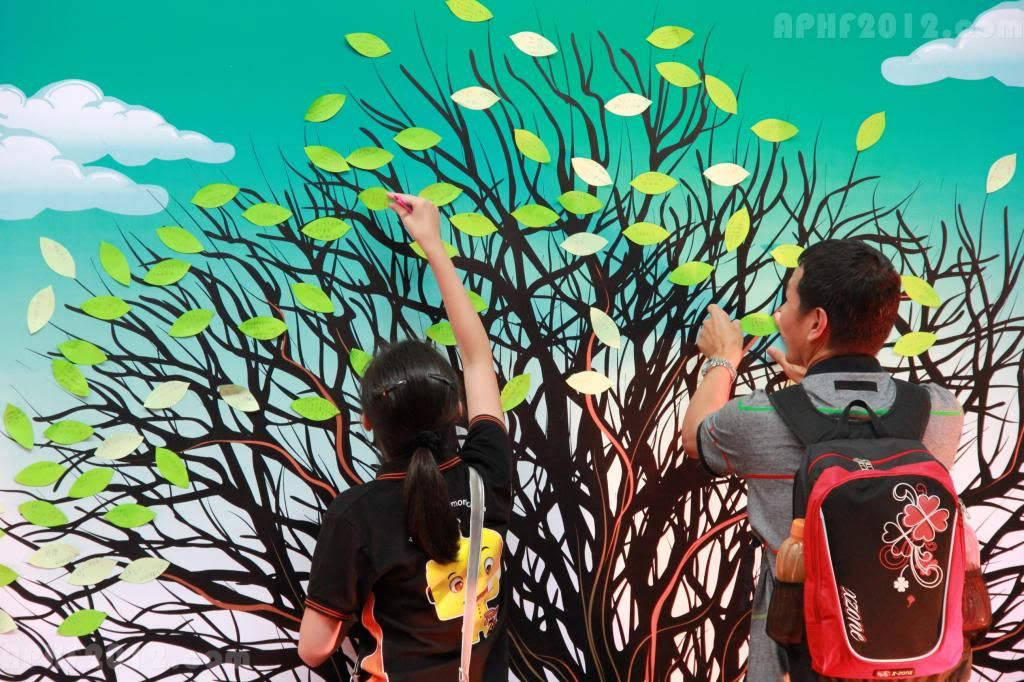 Wrote their own wishes on the leafs 叶子上写下自己的愿望
NOW, THE 'SHOW OFF' HAVE A CHALLENGER!  '斗斗秀' 来了位挑战者!
The 'Show-Off' challengers are enjoying their supreme service by the ladies ~ '斗斗秀'的挑战者接受者至上的美女服务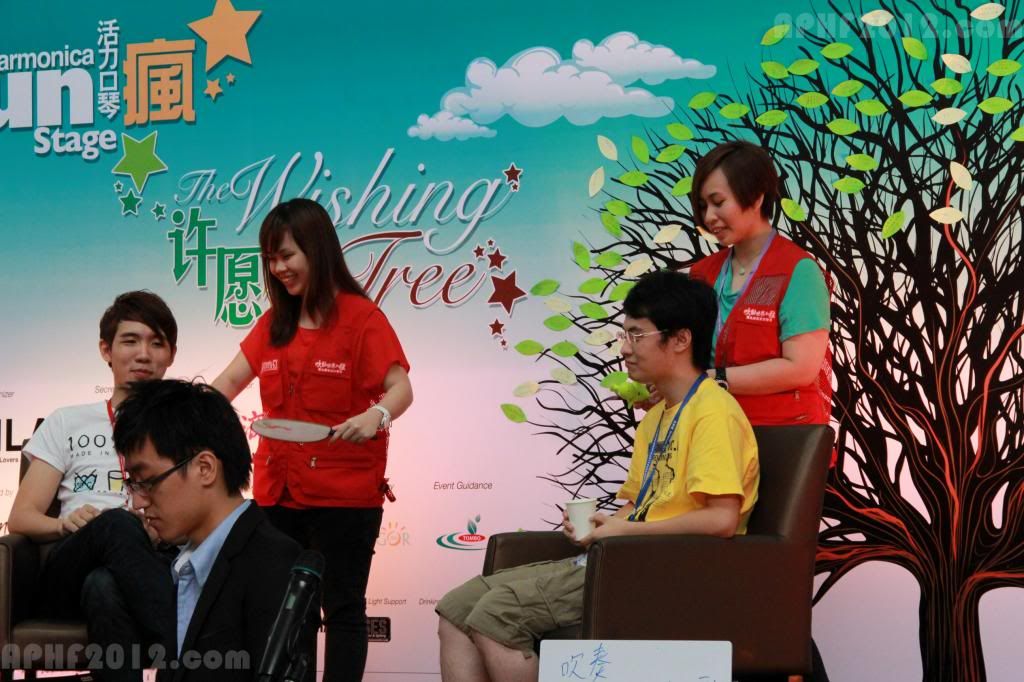 Waiting for someone to challenge him … 等待着有人来挑战。。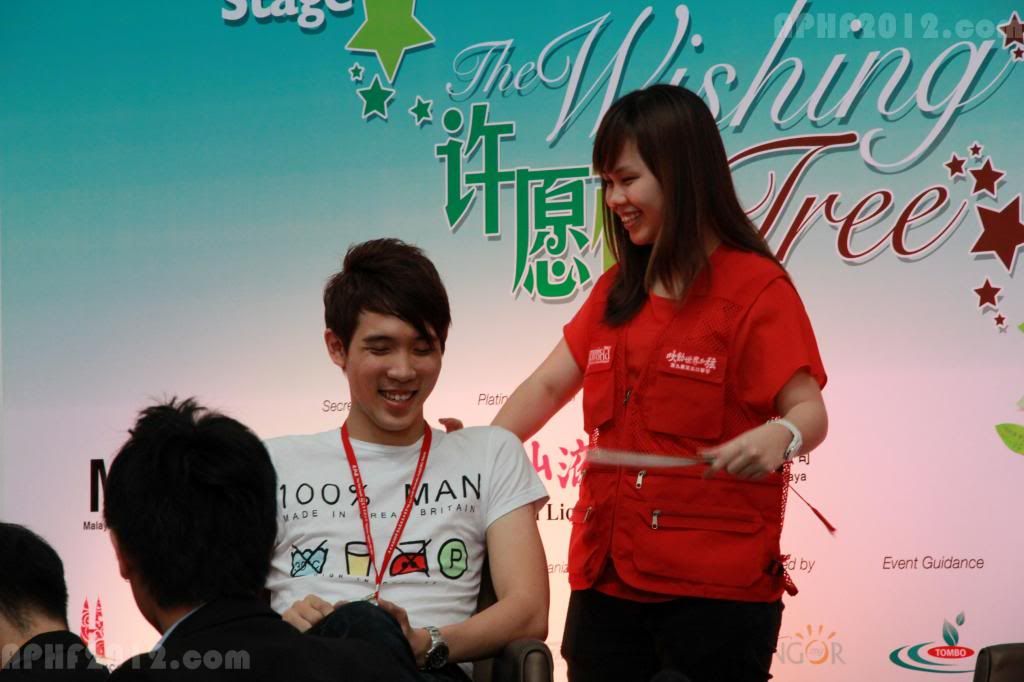 挑战开始! The Challenge Starts!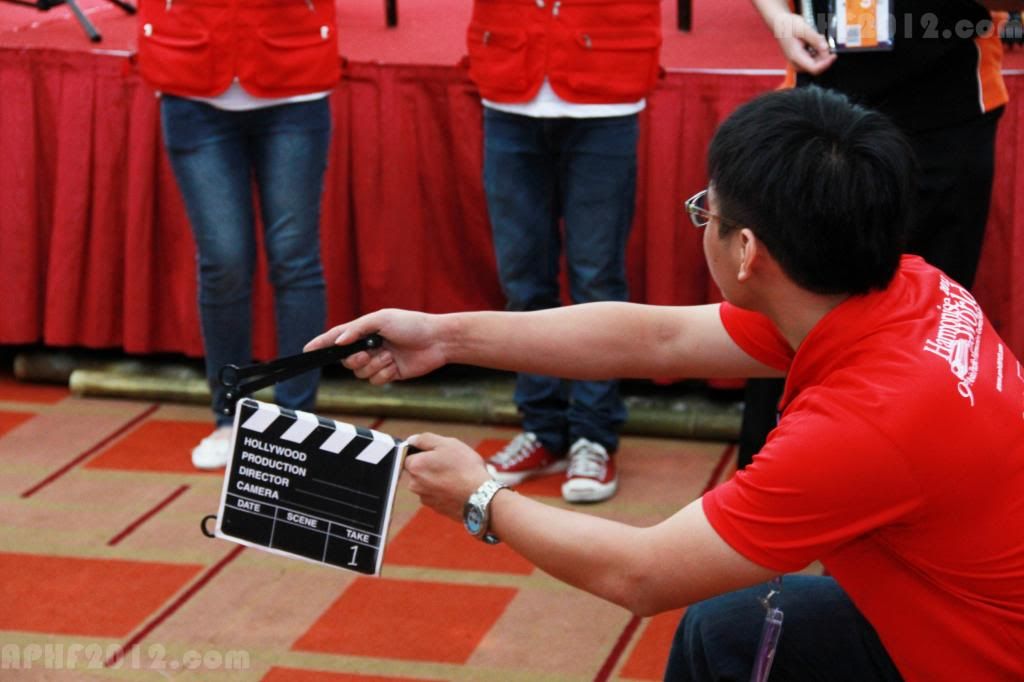 Oh! Someone has to be punished … 噢,有人将面临处分了!
Fun Crew collecting 'leaf' from the audience f疯团员正向观众收集 '叶子'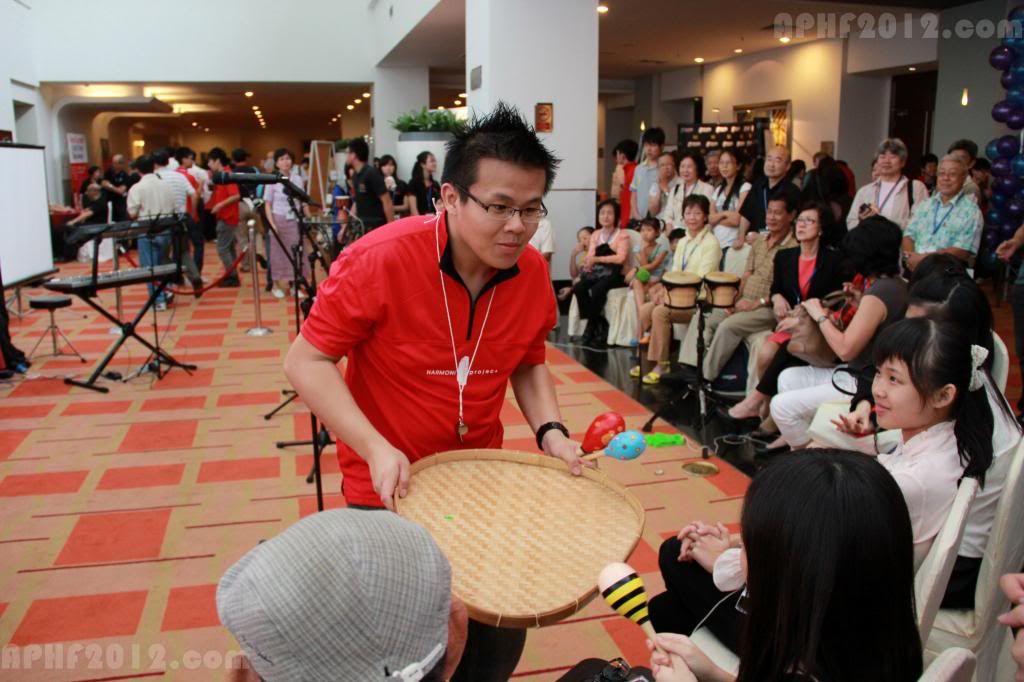 FuunStage is at the climax 疯舞台疯度涌上高潮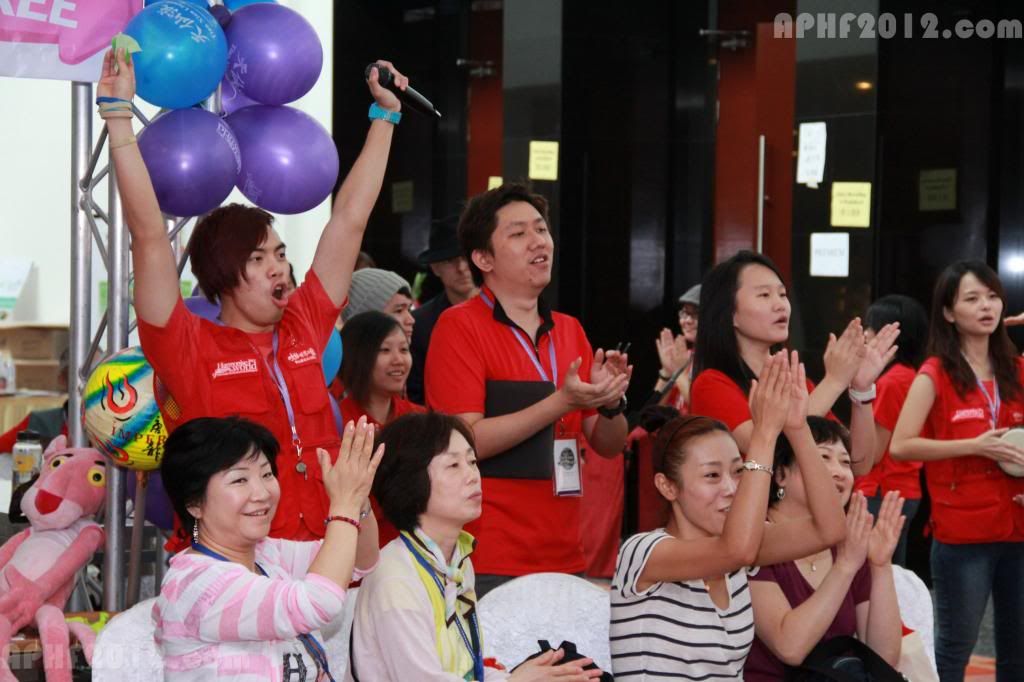 The 3rd day for FunStage, Fun Crew morning briefing – they are all tired …
疯舞台第三天,疯团员的早会 – 一大早未睡醒的疲累。。。
But everyone are still 'FUN'!!!   但大家任然疯狂!!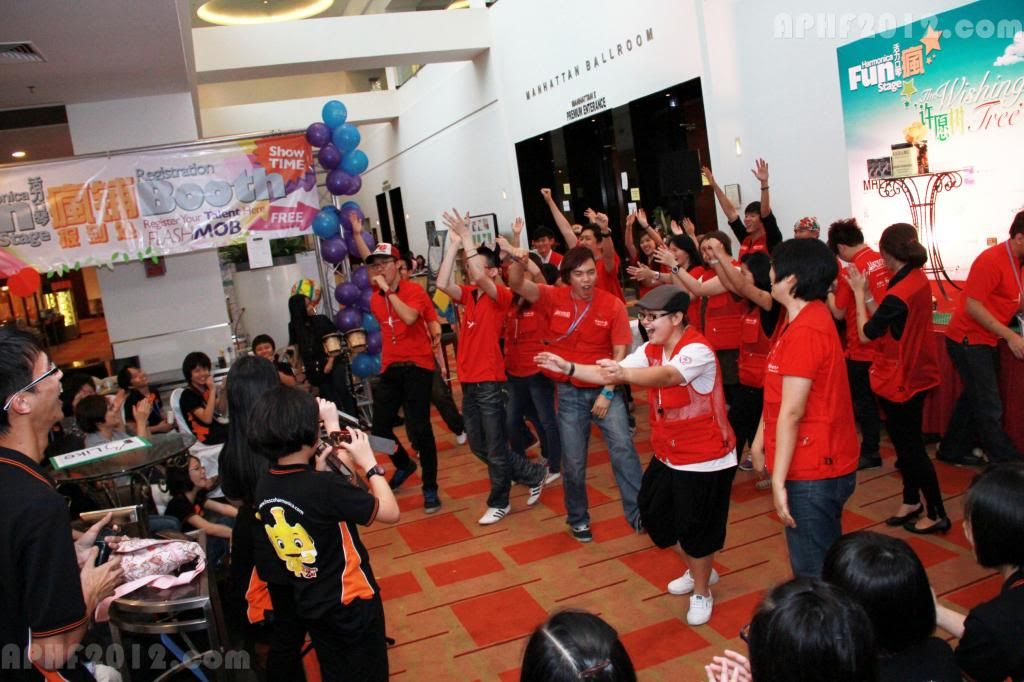 The Bamboo Dance Challenge 竹子舞比赛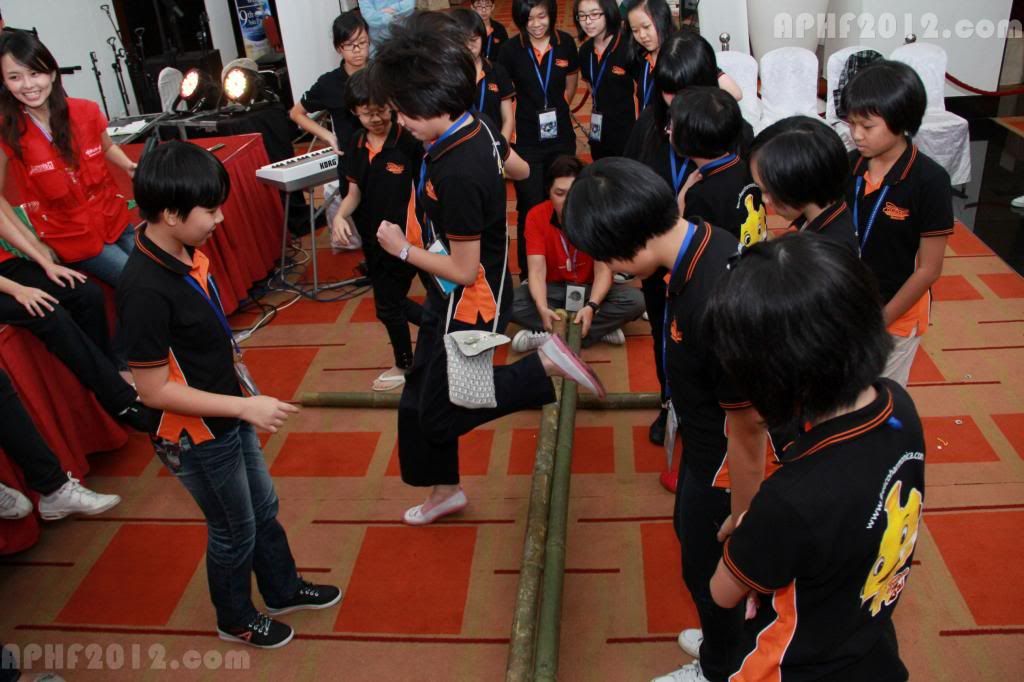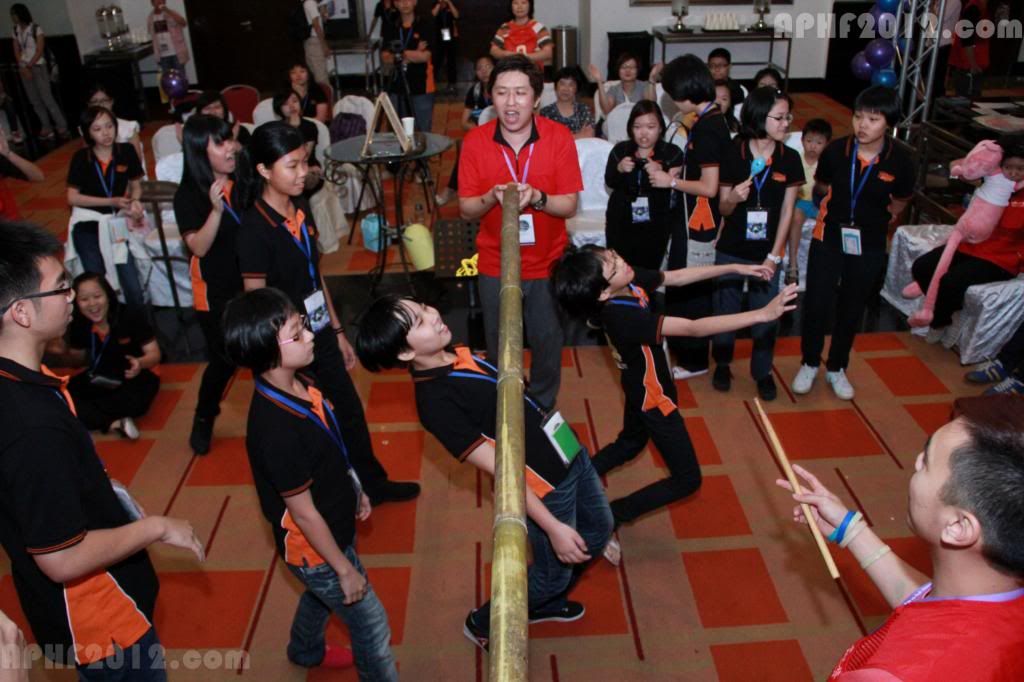 Our Talented Fun Crew beat boxer – Azov! (He is actually just acting)
疯团员里每个都是卧虎藏龙,我们的口技代表 – 佐夫! (其实他只不过在演戏)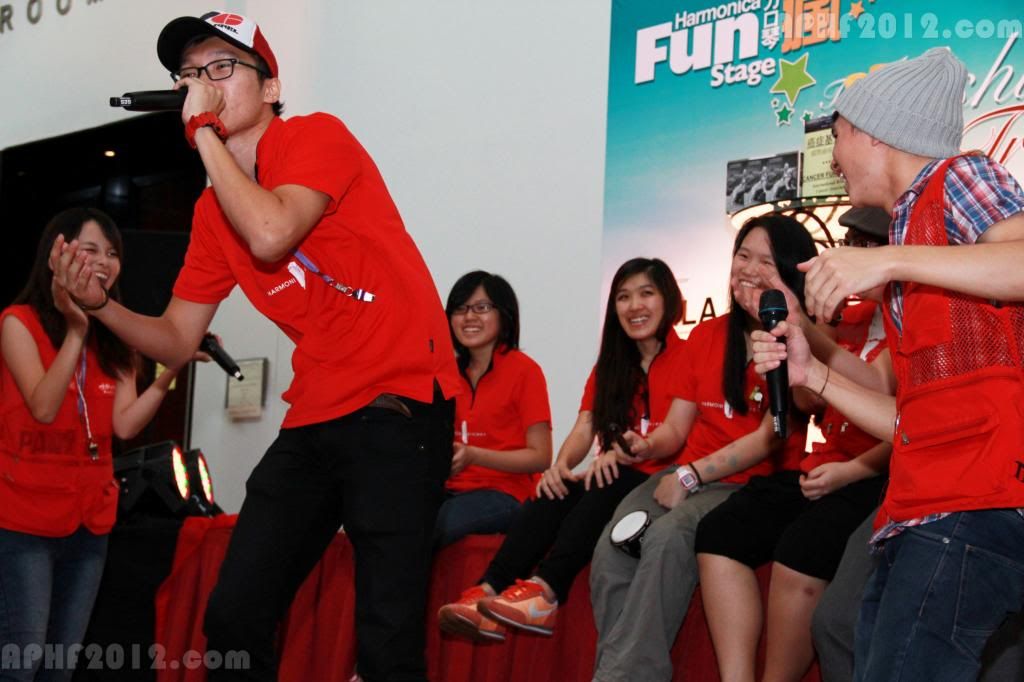 Now the real beat boxer comes to challenge 真正的口技达人现身挑战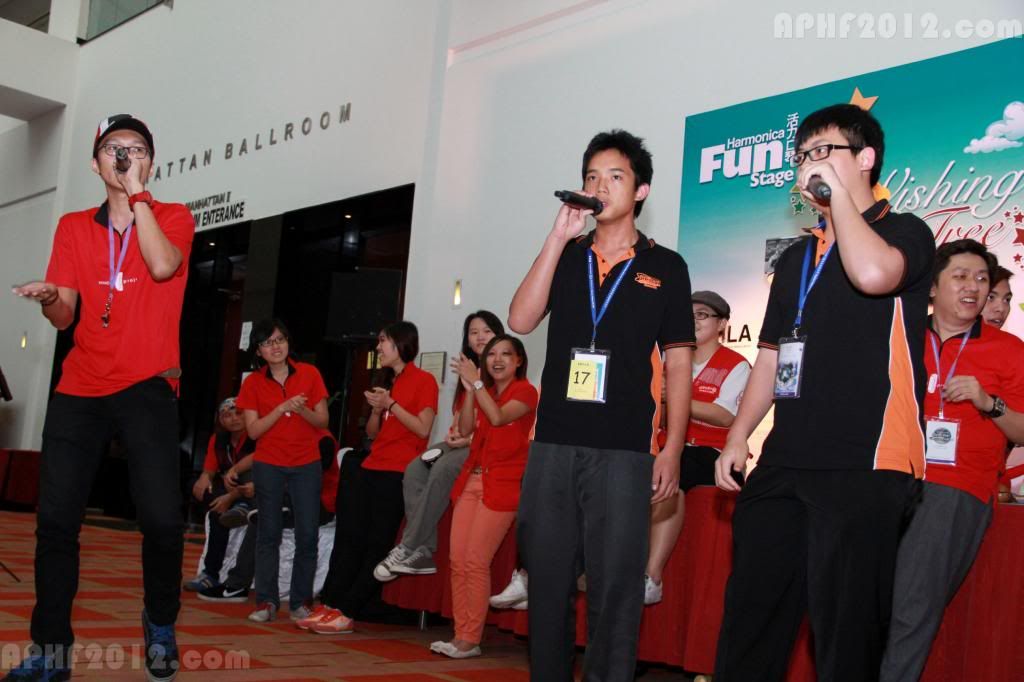 Last but not least – Breakdance 少不了的 – 街舞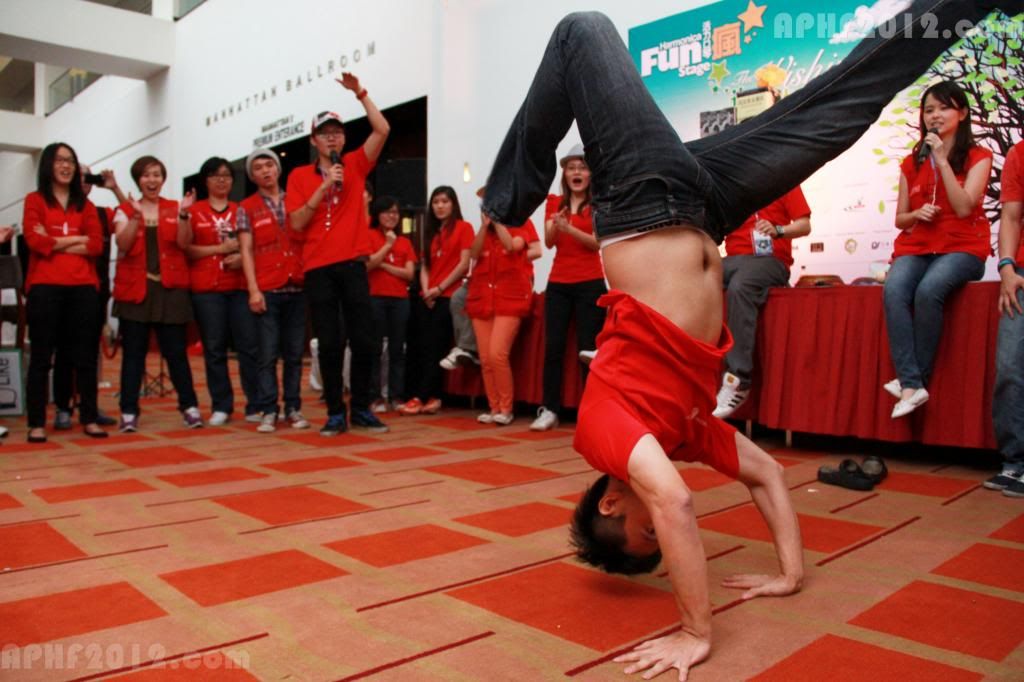 Thanks to the Fun Crew and the Fresco Team for remaining their 'FUN' energy throughout the whole event!
感谢疯团员和 Fresco一直保持着疯狂的状态!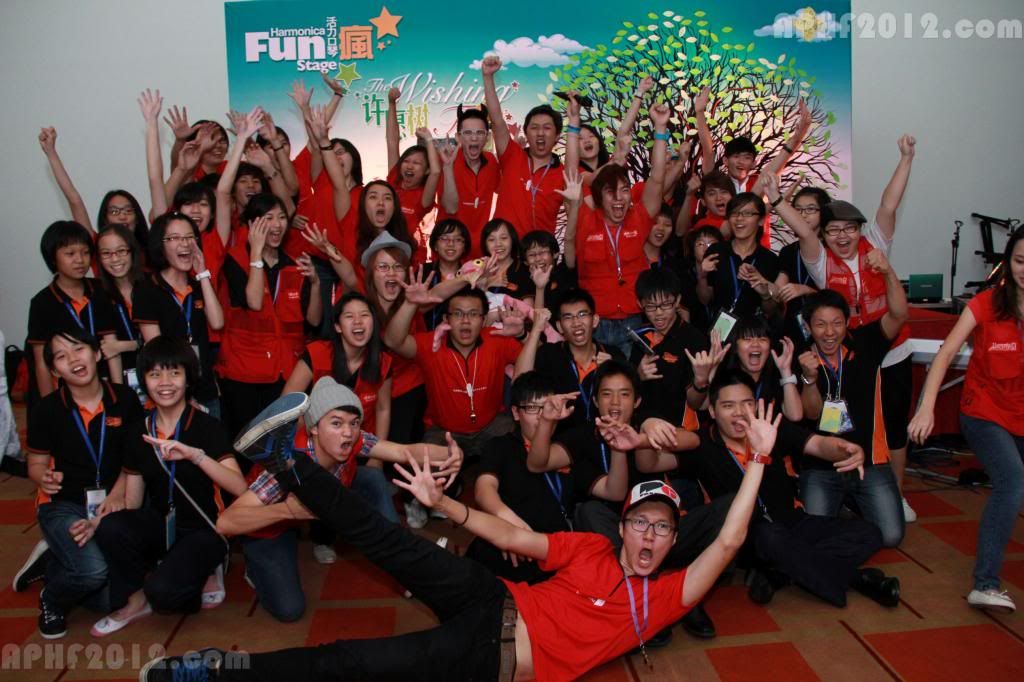 My Harmonica Wodrl's FunStage board / APHF 2012 on pinterest.